TIME IS RUNNING OUT FOR 2016. COLD AND HUNGRY PEOPLE NEED YOUR HELP. GIVE NOW!
The year has been a challenge for all of us. For the homeless, hungry and cold struggling to survive the last weeks of the year, living on Skid Row time is running out. Your tax-deductible gift today, provides hot meals and care that give hope that better times are ahead.
Make your Year End Tax Deductible gift now. Just $2.03 provides a meal and care for someone who is hurting.
Your gift today provides:
· Complete meals
· Safe shelter
· Life-changing programs and services
***********************************************
Would you like to donate via PayPal instead?




***********************************************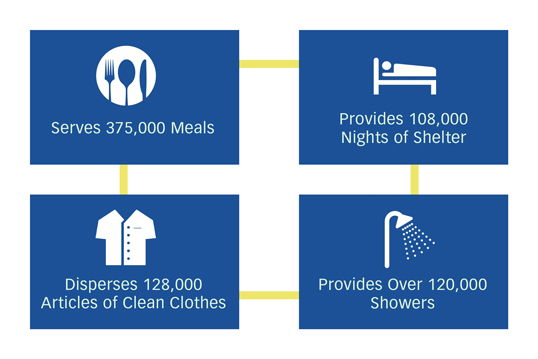 About the Los Angeles Mission
Founded in 1936, the Mission is a 501(c)(3) non-profit organization dedicated to the plight of the homeless and is located in the heart of the Skid Row section of downtown Los Angeles.
The generous giving of individuals, corporations, churches and foundations enables the Los Angeles Mission to rely completely on tax deductible contributions for all program expenses.
DONATE
| | | |
| --- | --- | --- |
| | | |
| This Campaign | 46 | 52545500% |
| has ended. | Believers | Funded |
This campaign has ended.